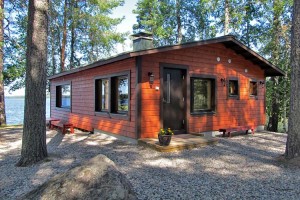 Niskajärvi, Pieksämäki
Kukkopirtti is a beautiful and peaceful holiday place consisting of two capes. The place has a main cottage, one sleeping shed with four bedrooms and two lakeside saunas. Kukkopirtti is suitable for maximum of 10 persons.
Main cottage: kitchen and living room, indoor WC
Equipment in the main cottage: washing machine electricity, warm water, television and dvd-player, cd-player, ironing board and iron, vacuum cleaner, baby cot, feeding chair, flotation vest (5)
Kitchen: fridge, freezer, set of dishes, stove, micro oven, coffee-maker, water heater, toaster, dishwasher
The sleeps are in sleeping sheds where there are 5 bedrooms, each of which has 2 beds. One of the bedrooms is located in the same building with the lakeside sauna, near the main cottage.
The other sauna is located on the cottage yard, and the other one is located on beautiful cape, within the distance of 50 meters from the main cottage. Water to the saunas is taken from the lake with a pump
On the yard: dock and rowboat, outdoor fireplace
Parking: on the yard
Distances: grocery store 12 km, closest neighbor 500 m, restaurant 9 km, railway station 16 km, airport 100 km, Pieksämäki 16 km, Mikkeli 80 km, Helsinki 295 km, Kuopio 97 km
Contacts and renting requests: Juha Ylönen
E-mail: juha.ylonen@suomi24.fi